Local Chef To Bring Gourmet Pizza, Sandwiches To North Fourth
BY JESSICA MAURER, POSTED APR 14, 2021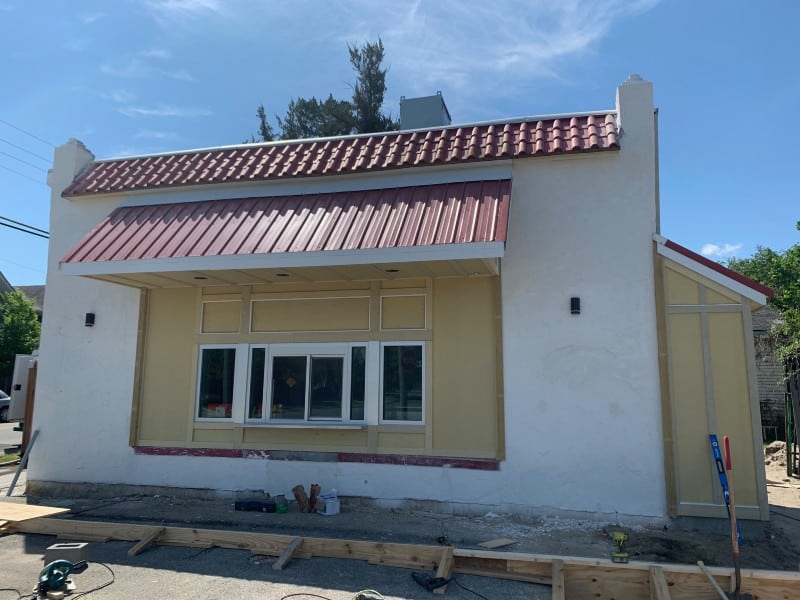 Wheelhouse Pizza, a collaboration between chef Mark Milner and Port City Holding Co. owner Kent Tomaselli, will soon be open on North Fourth Street for carryout pizza, salads and sandwiches.
Located in a 360-square-foot, red-roofed building from the 1930s, the restaurant is just large enough to hold a kitchen with two deck ovens and a restroom. Customers will order from the walk-up window, or place orders by phone or online for pickup or delivery.
The property, at 1215 N. Fourth St. near 1898 Memorial Park, was recently purchased by Tomaselli. It's situated adjacent to Jervay Park, home to the "Black Lives Do Matter" art installation.
"With the outstanding visibility of the property as you enter Wilmington via MLK, this iconic landmark was calling out to be brought back to life," Tomaselli stated in a release from MoMentum Companies.
Milner said that since stepping away from the day-to-day operations at Milner's Catering last year, he has been scouting locations for a new venture. He happened to look at this space out of curiosity just days before he received a call from Terry Espy, owner and broker with MoMentum Companies, who had been helping him with his search.
After revisiting the property, Milner felt pizza was the best food for the space, and Tomaselli agreed. Milner said Tomaselli utilized some of his own assets to help outfit the building for success.
"With the success of outdoor dining, to-go and delivery, the timing could not have been better," Milner said in the release.
Wheelhouse will have a few small tables at the front of the building initially, and there are plans to turn the fenced lot behind the building into an outdoor gathering space as part of phase two of the property's development.
Milner will serve 10-inch and 14-inch pies as well as sandwiches made on flatbread baked from the pizza dough. Both the pizzas and sandwiches will have several base options ranging from red sauce to pesto, black bean puree, olive oil and a white sauce with ricotta and goat cheese.
Customers will have the option to create their own pizzas, and there will be several specialty pizzas on the menu including buffalo chicken, charred Yukon gold potatoes with a white base and herbs, brisket and caramelized onion and a three-garlic pizza featuring garlic that is roasted, toasted and raw.
"With all of the energy and growth we are experiencing along the Northern Riverfront area and Brooklyn Arts District, it was time to bring an exciting dining concept to this location," Terry Espy said.
Milner anticipates a mid- to late May opening.