Commercial Real Estate Award Winners Announced
BY CECE NUNN, POSTED 4/29/21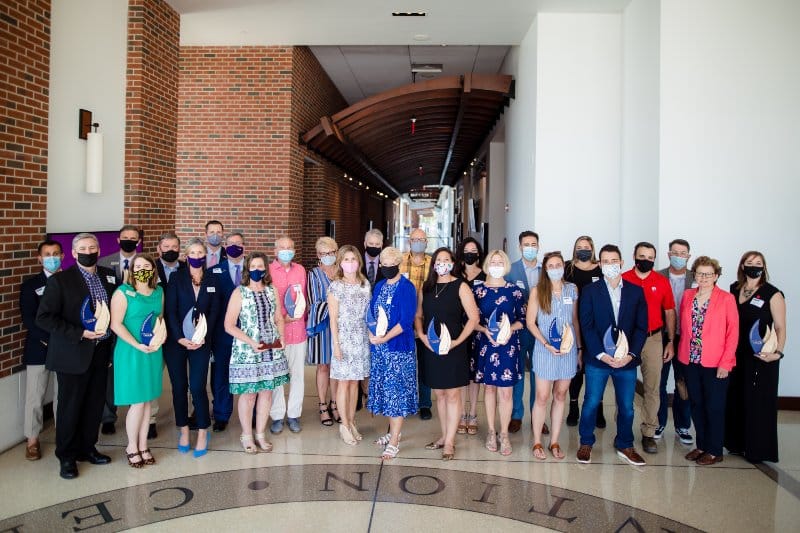 Area real estate projects, leadership and other achievements were recognized Thursday at a ceremony at the Wilmington Convention Center.
Cape Fear Commercial Real Estate Women (CREW) presented its 2021 Awards of Excellence during an in-person event. The awards focus on the area's rapidly growing commercial real estate sector.
Thursday's event was led by Cape Fear CREW President Gale Wallace of Clarendon Properties, who said in a news release, "We were thrilled with the quality and number of awards submissions in what has to be one of the most challenging years for any business. Congratulations to the winning companies, organizations and leaders who won in a very competitive field."
The winners, along with descriptions shared by CREW of their achievements, were as follows:
Best Interior Award: End of Days Distillery
Creating End of Days Distillery involved taking a dilapidated Quonset hut built in the 1940s and turning it into a working distillery. As part of the Cargo District, they brought in a shipping container to create a main hallway. The stunning black wall showcased in the distillery underwent a technique called shou sugi ban, a burnt timber process originating in Japan that shows what the inside of a bourbon barrel looks like. The owners designed the space themselves, overcoming obstacles in upfitting the building while keeping its original character.
Dealmaker Award: River Place Development, Leasing & Sales
In 2014, Wilmington issued an RFP for the "Riverfront Development Opportunity" to redevelop the Water Street Park Deck. The city chose East West Partners based on their experience, quality of design, ability to execute and the financial benefits. River Place respects its historic surroundings architecturally. It also provides a continuation of Bijou Park through the middle of the project. In contracts with Duke Energy, Cape Fear Public Utility Authority and the city of Wilmington, the ownership executed projects addressing utilities, streets and reconstruction of the parking deck. Banks were not eager to lend money in a tertiary market, but private financing was secured. As of the nomination, 81 condos had been sold, 34 apartments leased and 30,000 square feet of retail leased.
Placemaking Award: Live Oak Bank Fitpark
This hybrid fitness and parking structure for Live Oak Bank's corporate campus met goals of sustainability, connectivity and transparency with materials of wood, steel and glass. The south side provides parking and connections to the surrounding community, while the linear bar to the north connects with the pedestrian-oriented campus. The design rethinks the paradigm of the traditional office parking garage and how it relates to a campus environment. The fitness component provides an attractive visual buffer from the adjacent campus buildings. The 18,000-square-foot fitness space features yoga and cardio studios, fitness equipment, a clinic, rooftop deck, and outdoor exercise spaces in an open environment. Rooftop solar panels help to power the building and support campus sustainability initiatives, while EV charging stations encourage a more sustainable commute.
Economic and Community Enhancement Award: Truist Place, Whiteville
Having occupied aging facilities in Whiteville since the 1960s, BB&T now Truist reached a crossroads on renovating existing space or starting over. Realizing the best solution was to build a new facility, Truist broke ground on a 101,000-square-foot facility along J.K. Powell Boulevard. With over 500 employees in Whiteville, the bank wanted its new workplace to support and be an integral part of the Whiteville community. The bank also wanted a space that would celebrate its merger with SunTrust and its vision to become Truist Financial. The new facility provides up to 640 employees with state-of-the-art work areas, broader health service amenities with fresh-food options and a health clinic and fitness center on-site, critical to attracting and retaining teammates.
Career Advancement for Women: Maggi Apel and Vicky Janowski, WILMA's Women to Watch Leadership Initiative
Maggi Apel and Vicky Janowski, also of the Greater Wilmington Business Journal, have been leading a communitywide initiative since 2015 designed to help develop more women leaders in Wilmington-area businesses and organizations. They have launched numerous programs under the Women to Watch umbrella, including the WILMA Leadership Institute, training and networking opportunities through the Accelerator program, a leadership class project, an alumni group, special Facebook page for the WILMA Network, a Women to Watch Awards program and a "Get on Board" program to provide board training and board membership opportunities. Apel and Janowski are having a direct impact on careers and lives with those who have gone through the Leadership Institute. They have made advancements in their own leadership abilities and they continue to be mentors for other organizations.
Evolve Award: Downtown Alive ILM
With the COVID-19 shut-down, downtown Wilmington business owners reached out to the Downtown Business Alliance for an effort to bring customers back in safely. After researching how other markets successfully addressed this challenge and receiving suggestions from downtown businesses, a plan of action was put into place. Once presented to and approved by City Council, marketing efforts including safety guideline signage, posters, press outreach and social media were coordinated by volunteers and the program was launched. Downtown Alive ILM received national and regional press and inquiries asking for guidance for other cities. Downtown Alive became a significant draw, enabling restaurants and retailers to open their doors safely. Businesses reported revenues in line with the previous year, even with 50% occupancy.
Beth Quinn Excellence Award: Julie Andrews, Logan Homes
Julie Andrews has been a member of Cape Fear CREW since 2013, serving as past president, secretary and an instrumental leader of the Awards Planning and Marketing Committees. She is the marketing manager at Logan Homes and, in 2019, was recognized as their NC Employee of the Year. In 2018, she served as event producer for TEDxAirlie and was instrumental in the planning of the theme, logo, event coordination, volunteer and partner recruitment. She remains heavily involved at her alma mater, UNC Wilmington, having served on the Alumni Board of Directors and as president of the Communication Studies Alumni Chapter. In 2020, she was named UNCW Distinguished Young Alumna, a Rising Star Finalist for WILMA Magazine's Women to Watch and a Rising Star on the WilmingtonBiz 100 List.
Impact Award Winner: Cindee Wolf, Design Solutions
Land planner and site designer Cindee Wolf, through her firm Design Solutions, has spent years serving developer and landowner clients as they work through government processes. Cindee has applied her skills to multiple sectors, including multifamily, commercial and mixed-use projects. She typically handles more than a dozen projects at any given time, often with more than 50 projects per year that she "touches." Wolf is proud of her relationship with her peers in the planning and zoning departments of the city of Wilmington. She has volunteered on steering committees involved in the vision for Wilmington's future and has served on the CFPUA Board. Over several decades, Wolf has, through her work, dedication to the built environment and fearless approach to finding solutions, made a huge impact on Wilmington and our industry.
In addition to the Cape Fear CREW Awards, the organization was joined by the Realtors Commercial Alliance of Southeastern North Carolina to present their Member of the Year award to Steven E. Mitchell and their Commercial Lifetime Achievement Award to Elise Rocks, who is also a past president and longtime member of Cape Fear CREW.