Small Towns, Big Flavor: Yelp Names 2022 Foodie Cities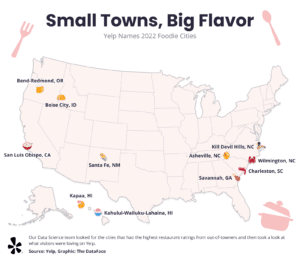 Looking for inspiration for your next summer travel getaway? We've compiled a list of the top trending destinations for foodies across the United States. This year, Asheville, NC and the Hawaiian Islands top the list alongside cities like Charleston, SC, which is home to Michelin-starred and James Beard Award winning restaurants.
To name this year's top US destinations for foodies, our Data Science team looked for the cities that had the highest restaurant ratings from out-of-towners and then took a look at what visitors were loving on Yelp. We limited this year's list to cities with populations under 250,000 that have must-know food scenes.
Below, we've listed this year's trending destinations and a few restaurants and dishes to bookmark for the itinerary, whether you're in the mood to make a stop for fry sauce in Boise City or fill up on crab cakes and hush puppies on the North Carolina coast.