Downtown Grocery Store Founders Share Details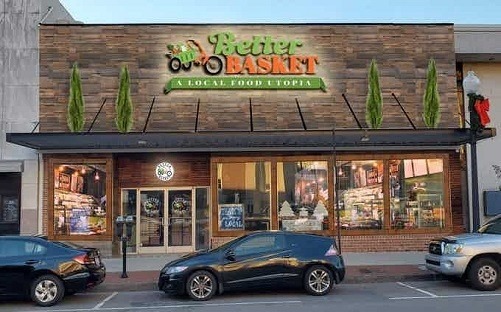 The founders of a new grocery store are hoping to bring their concept, Better Basket, to downtown Wilmington in about four months.
Joseph Allen and Frank Christopher Meares are teaming up to bring farm fresh produce and gourmet prepared foods to the space at 143 N. Front St., which was formerly occupied by Farmin' on Front.
Farmin' on Front opened in late 2016 and was the vision of Wayne Long, co-founder of Well Care Health in 1987 and Farmin' Brands in 2011. Long viewed it as a way to offer something the downtown market had been lacking – fresh and local food.
But Long died in 2017. Then Farmin' on Front closed for Hurricane Florence in September 2018 and it didn't reopen.
Allen and Meares would be subleasing the space from the Long family.
Meares said Better Basket will be different from other grocers, working directly with local farmers to bring in fresh produce daily.
"We have very high standards for fresh produce," Meares said. "And bringing food in daily allows for the very best quality and taste."
Another thing that will set Better Basket apart, according to Meares, is an open kitchen with a variety of prepared foods and meals that are ready to eat. Meals can be enjoyed on-site or packaged for carryout, with the vast majority of items requiring little to no cooking time.
Terry Espy, broker and owner of Wilmington-based MoMentum Companies, who listed the property for lease on behalf of the Long family, said her focus was to locate a tenant that would build on the Farmin' on Front concept and take it to the next level.
"We knew this was the right fit . . . with the population growth in the downtown market along with the current COVID restrictions, the addition of the prepared meals to the Better Basket's offerings could not be more suitable," Espy said.
Allen came up with the idea for the store about 10 years ago and dreamed of one day opening it with his mother, but sadly she passed away before the store came to fruition. Allen and his mother envisioned a "grocerant," as they called it, combining a traditional grocery store with a restaurant.
In addition to fresh, local produce, Better Basket will have a bakery with breads and confections, and a self-serve salad bar. The majority of the products sold and served will be sourced in North Carolina and South Carolina. To be fully stocked, some items will have to be brought in from outside the region, but Better Basket plans to be transparent about where items are sourced.
"We'll carry all-natural and organic as much as possible, and keep in mind environmentally friendly packaging as well," Meares said. "We also know we have to keep things affordable."
Better Basket has launched a Kickstarter campaign to help inform the community about the store's goals. Meares said the purpose of the campaign is two-fold: to generate money that will help them create the very best kitchen they can afford, and to gauge the community's response to the idea.
"If the community is not responsive to the campaign, then we may have to re-think our concept," Meares said. "I feel confident that Better Basket will get off the ground, and we hope it's here in downtown Wilmington; that's really what we want."
Meares' grandfather owned and operated 218 Antiques and Armory at the corner of Front and Dock streets many years ago, and he said he's passionate about being a part of the revitalization of downtown.
"It used to be that you could find everything you needed right downtown, and bringing that back is important to me," Meares said.
The design phase of Better Basket is now underway, and if all goes as planned, Meares and Allen are hoping for a June opening.

BY JESSICA MAURER
Cece Nunn contributed to this report.